Becoming a hockey referee is a great way to participate in the game.
Submission of USA Hockey Officiating Program membership applications for the 2023-24 Season begins on June 1, 2023 and ends after December 31, 2023.
All 2023-24 membership registrations must be completed by February 28, 2024. No referee cards and sweater crests will be issued after this date.
Membership is valid for the entire season in any district or state in the United States, and membership within any local officials association or local hockey league is not required for USA Hockey Officiating Program membership.
Register on-line with USA Hockey
This is where you will provide us with your personal information for our database and pay your annual membership fee (and Affiliate Fee if applicable).
Safe Sport and background screening
Officials who are a 2006 Birth Year or older at the beginning of the registration season are required to complete the online U.S. Center for SafeSport education program.
On-line education modules and open book exam
Once registered with USA Hockey, you will receive instructions regarding the online Officiating Education Module program. Go to the Open Book Exam page at the OFFICIALS section of USAHockey.com and follow the steps to begin your online exam.
Classroom seminar
Attendance at a sanctioned USA Hockey Officials Classroom Seminar is required for all applicants, regardless of level.
2021-25 playing rules changes
Review updates to the USA Hockey Points of Emphasis and Standard of Play, and an explanation of the new Standardization of Discipline regarding Match Penalties.
2022-23 Seminars
Click the button below to be directed to upcoming seminars located within the New England District area. This includes both in-person and ZOOM seminars for all levels of officiating.
Support Programs
Our Buddy, Shadow, and Mentor programs match seasoned officials with new officials to help them complete registration requirements, get onto the ice, and build skills and confidence.
Where are they now
Here are some New England District officials who are following their dreams and the leagues that they are working in now.
Noah Merrow began his career in the New England District in the youth leagues. He has gained experience and is now working in the North American Hockey League (juniors) as well as the East Coast Hockey League (semi-pro)
Noah Merrow
Linesman from NH
Charlie Tremblay began his career in New England District in the youth leagues. He has worked youth and junior level hockey in the North American Hockey League (NAHL) and continues to progress in the ranks.
Charlie Tremblay
Referee from NH
Owen began officiating in the youth leagues and has worked his way up to Junior hockey. Owen is attending the futures camp this summer and is looking forward to working in the USA Hockey development program.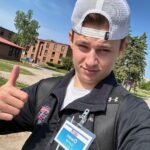 Owen Currier
Referee from NH
Contact us today and let's get on the ice.
If your ready to start your officiating career or you need assistance you can contact the New England District Referee-in-Chief or the National Office. All of us at the District are here to help you achieve your officiating goals.
Barry Zalcman
New England District
Referee-in-Chief
ric@nedusah.org

State Contacts
Click the Contact us button for a complete list of state referee-in-chief contacts.
Currently Open
National Director of Officiating Program
@usahockey.org
Ready to take your first step?
Click the button below to start your journey and become a registered official.